HEALTH & WELLBEING CENTRE, ALTRINCHAM
The former Altrincham General Hospital site, situated on Market Street, was acquired in March 2015.
The old hospital was a collection of attached buildings, varying in style and age, situated between Market Street, Greenwood Street, Regent Road and Pott Street.
The new Health & Wellbeing Centre has been designed in collaboration with NHS Trafford Clinical Commissioning Group (CCG) and Trafford Council. The £20m redevelopment will centre around social and healthcare integration. It will provide cohesive public health services, GP practices and enhanced community facilities.
Alongside will be the new Altrincham Library and Tourist Information Service. The design will incorporate the original façade and complement the surrounding environment. Prior to submitting the planning application, we held a public exhibition at Altrincham Town Hall to share our plans and vision with the local community (see our Gallery for the latest images).
Detailed Planning Application was submitted in November 2015 and approved unanimously in February 2016.  Demolition was completed at the end of 2016.  Bowmer & Kirkland commenced construction of the Health & Wellbeing Centre in early 2017 and completed it in October 2018.
Health & Wellbeing Centre, Altrincham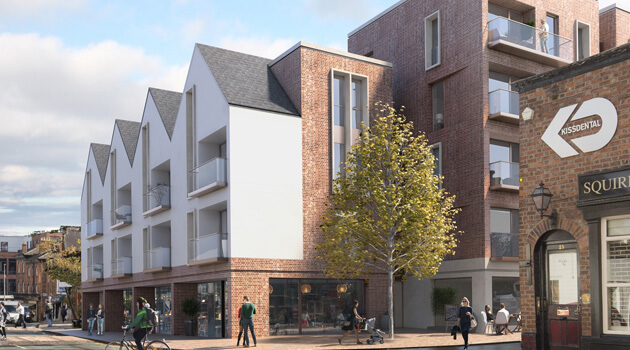 The £15m redevelopment will centre around a new 300 space car park, operated by Trafford Council, together with 70 luxury apartments, set in a landscaped public square, and ground floor commercial space.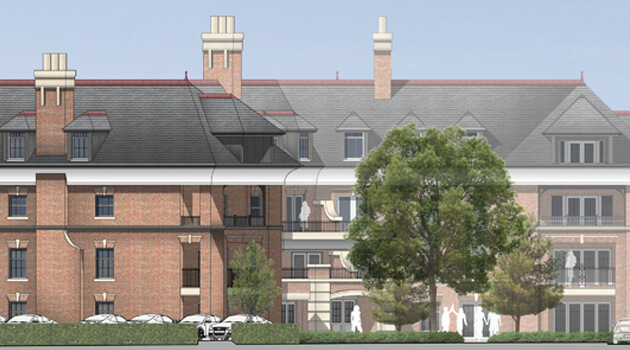 The current Timperley Library site on Stockport Road is to be redeveloped to facilitate a new library, a GP medical facility and a block of luxury residential apartments.